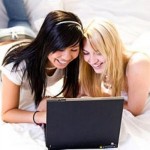 The buzzing's of social media harmonize through symphonic typings of text messages, late night tweets, and clattering clicks on red notification tabs. This technologic tune hacks into Facebook bars, and regenerates the Twitter-sphere's teasing and toxic rotation. Teenagers dance along to the beat of stumping statuses, and become pleasurably distracted by streaming entertainment. The zooming gushes of high speed access, and innovative inventions have charged the social media's powerhouse, ultimately creating an empire that reigns supreme and unsurpassed.
Over 350 million users spend twenty minutes navigating Zuckerberg's social networking site daily. 25 million of his Facebook fans engage in polyamorous relationships with Twitter, Tumblr, and Myspace for an additional 2,400 seconds throughout the duration of the week. This savvy time sinker is primarily booming due to its accommodating convenience.  There are more than 180 mobile operators in 60 different countries that promote social networking products, including downloadable apps.
Leaving teenagers free to suppress their superficial needs, while becoming professional prowlers of the World Wide Web can be cause for concern. Although social media has proven to be reliable in terms of defeating chronic boredom, blogging, chatting, instant messaging, texting, emailing, surfing, and streaming are temporary fixers that often result in the sabotage of daily responsibilities.