My Latest Project:
The Great American NO BULL Challenge and Teen Video Awards
Promoting digital responsibility & social action
Using the power of music & filmmaking
The Great American NO BULL Challenge is a social action organization that uses the power of social media, music and the magic of filmmaking to inspire 25 million middle and high school students to create films that speak to the importance of digital responsibility.
Our goal is to use these socially driven documentary-style films and PSA's as a means to bring about social change on a global basis.
The annual NO BULL Teen Video Awards celebrates the culmination of the NO BULL Challenge's 4+ month national video contest, where thousands of teens from around the country are celebrated for participating. The ultimate goal? To inspire change at the youth level and build a positive school climate.
Prizes include the coveted Stand UP Award, scholarships, laptops, video cameras and a trip to Sundance Film Festival.
Stay tuned for details on the 2013 Awards Show.
NO BULL is committed to creating and inspiring youth-led films as a platform for dialogue on the most important issues of our time.
We are proud to announce the 2012 NO BULL Teen Video Award Winners:
Best Acting: It Follows You, by Jacob Hayworth
Best Community Involvement: Cypress Ranch Anti-Bullying Lip Dub, by Triple Oswald
Best Directing: Alone, by Hunter Hopewell
Best Message: STOMP OUT The Bullying, by Angel McGowan
Best Visual Effects: One Text, by Spencer Agren
NO BULL Documentary of the Year 2nd Runner Up: Alone, by Hunter Hopwell
NO BULL Documentary of the Year 1st Runner Up: Cypress Ranch Anti-Bullying Lip Dub, by Triple Oswald
NO BULL Documentary of the Year: The Formula: A High School Thesis, by Austin Barker
You may view the winning videos here
To get involved, visit: www.NoBullChallenge.org.
Important Dates:
December 14, 2012
Video uploads begin
April 30, 2013
Video upload deadline
May 6 – 17, 2013
Public voting period
May 29, 2013
Nominees announced
Video Subject:
Digital Responsibility, Anti-Bullying
Video Lengths:
Full: 2-5 Minutes
PSA: 30-60 Seconds
Eligible:
U.S. Middle and High school students aged 13-18
[stream provider=video flv=x:/www.shawnedgington.com/video/edgington_fox_news.flv mp4=x:/www.shawnedgington.com/video/edgington_fox_news.mp4 img=/video/fox_news-shawn-nicole.jpg embed=false share=false width=320 height=180 dock=true controlbar=over bandwidth=high autostart=false /]
December 14th, 2012 through April 30th, 2013 – Join Team NO BULL for the largest campaign against cyberbullying in America's history!  Visit: www.nobullchallenge.org for more information.
The Parent's Guide Becomes a Bestseller
We're proud to announce that The Parent's Guide to Texting, Facebook and Social Media: Understanding the Benefits and Dangers of Parenting in a Digital World became an Amazon and a Barnes and Noble bestseller on National Cyber Safety Awareness Day.  We'd like to thank everyone who helped us get the word out about the importance of cyber safety and our youth.
As always, we'll continue to promote cyber safety as it relates to our children, through radio and television appearances, speaking events and community outreach programs. We'll also continue to ask for book donations to the Megan Meier Foundation, a non-profit organization that's making a difference by promoting cyber safety in our schools.
Shawn Edgington: Media in Review
For centuries, parents have been able to easily protect and guard their children from bad people… but with today's technology, social networks and mobile messaging, it's simple for predators and bullies to reach out and attack our children from anywhere and at anytime; silently and with ease.
It's a fact that cyberbullying ruins lives.  Cyberbullying occurs when a minor uses technology to deliberately and repeatedly engage in hostile behavior to harm or threaten another minor, and is against the law.
Almost half of our youth experience some form of online harassment
71% of teens receive messages from strangers
39% of teenagers admit to sending or posting sexually suggestive messages (aka sexts)
Most kids don't tell their parents what's happening in their online world
It's critical that parents take a pro-active approach and become aware of how technology can be abused and talk to their kids about the dos and don'ts for using technology.  When it comes to cyberbullying, knowledge is power, and we're here to help you gain the knowledge that you need to get involved and facilitate change.
The Parent's Guide provides awareness, solutions and preventative resources to keep children safe and secure online.
With defensive parenting and constant communication, adults can TEACH children about the potential dangers of social networking and EMPOWER them to protect themselves from online predators.  Parents can help GUARD their child's personal information, PRESERVE their online reputation, and learn how to determine friends from "frenemies."
Knowledge is power!  If you're aware of what's happening, you can get involved and facilitate change!
We encourage parents to be involved and informed about their child's use of connected technology.  This contributes to their health and well-being, defining success and providing a framework that allows families to maximize opportunities to communicate, collaborate and innovate in the digital environment while minimizing risk.  We applaud the "The Parents Guide" which encourages and assists families in creating a generation of responsible, ethical and resilient digital citizens.
~Marsali Hancock, iKeepSafe President and CEO
"Shawn Edgington's book is a "must-have" for parents in this digital age.  While there are many benefits to using social media, there are also very real potential dangers, such as online predators, cyberbullying, identity theft, and more. The Parent's Guide to Texting, Facebook, and Social Media helps parents equip their children to protect themselves and their personal information."
~Spencer Christian, ABC News & View from the Bay Host, Former Good Morning America Host
"Teens are facing a number of significant challenges when using technology.  Parents are charged with educating their children about the safe and responsible use of a variety of digital devices and online environments.  "The Parent's Guide to Texting, Facebook, and Social Media" equips parents with the tools and resources they need to encourage the appropriate use of computers and cell phones."
~ Justin Patchin, Ph.D., Co-Director of the Cyberbullying Research Center, Co-author of Bullying Beyond the Schoolyard: Preventing and Responding to Cyberbullying
"I believe it is so important for books just like the "The Parent's Guide to Texting, Facebook and Social Media" to be available to help educate and bring parents up to speed on the world that our children live in today."
~ Tina Meier, Mother and Founder, The Megan Meier Foundation
"This is a must read for the responsible parent of any tech savvy kid. Shawn shares her vast knowledge on the way youth communicate today.
~ NJ Frank, Film Producer "Submit: The Reality of Cyberbullying"
"In an era when we are scrambling to keep up with the pace of technology, it is important to also understand the boundaries. Shawn Edgington has emerged as an essential voice for parents and tech-obsessed kids in our rapidly changing world.
~ Samantha Ettus, Bestselling author, TV personality personal branding expert and mom of three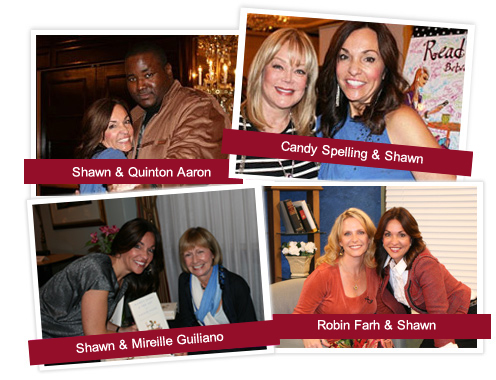 Shawn Edgington on
ABC – View From the Bay