What I'm referring to is sextortion:  sexual blackmail of children and teens online just like you.  Because most teens are extremely trusting, especially when it comes to social networks, you're an easy target, which makes this an even more difficult trend to stomach.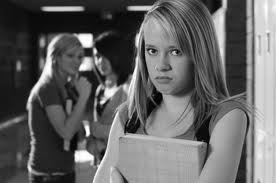 Here's how sextortion works: Online predators, ex-boyfriends or frenemies get a hold of inappropriate photos or videos of you by way of email, text, hacking, social networks or chatrooms, and then threaten complete humiliation if they don't get what they ask you for.  These criminals threaten they will post or send the inappropriate content to your parents, friends, family, teachers, coaches or bosses, make demands for money, or even threats of physical harm.  SCARRY!
Sextortionists are experts at getting what they want, knowing that teens will be too afraid to tell anyone what's happening to them, especially their parents, leaving them in the driver's seat to get exactly they want. Children and teenagers just like you can quickly become trapped in a silent cycle of online sexual exploitation, every parent's worst nightmare.