What I'm referring to is sextortion:  sexual blackmail of children and teens online just like you.  Because most teens are extremely trusting, especially when it comes to social networks, you're an easy target, which makes this an even more difficult trend to stomach.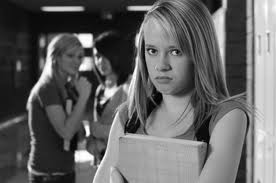 Here's how sextortion works: Online predators, ex-boyfriends or frenemies get a hold of inappropriate photos or videos of you by way of email, text, hacking, social networks or chatrooms, and then threaten complete humiliation if they don't get what they ask you for.  These criminals threaten they will post or send the inappropriate content to your parents, friends, family, teachers, coaches or bosses, make demands for money, or even threats of physical harm.  SCARRY!
Sextortionists are experts at getting what they want, knowing that teens will be too afraid to tell anyone what's happening to them, especially their parents, leaving them in the driver's seat to get exactly they want. Children and teenagers just like you can quickly become trapped in a silent cycle of online sexual exploitation, every parent's worst nightmare.
From experience, we already know that every teen is vulnerable to the online "ugly" side of the Internet, which comes with being constantly connected.  As an adult and a cyber safety expert, it's my responsibility to speak openly about what to do should you ever become a victim.
It's important for you to:
Get informed, ignorance isn't bliss. Understand what sextortion is, and promise yourself that you'll go to your parents should you ever become the target of a sextortionist – NO MATTER WHAT.
Set all security and privacy settings to private & set alerts. Keep all of your profiles on social networks private, even after you turn 18-years-old.  Creeps never get tired of trying, especially when they can hide behind a fake profile on a social network.  Set a Google Alerts for your name, which will let you know the instant something terrible or embarrassing tagged with your name gets posted online.
Messages, photos or videos you send by text are never private. They have the ability to be saved, edited, forwarded, posted onto Facebook or uploaded to YouTube in the matter of seconds, where they sit perfectly poised for Sextortionists to use against you.
Don't trust people online you don't know! Never trust anyone online you don't know in real life, and to always report any contact you've received from strangers to a trusted adult.
Don't text anything you wouldn't want your mom to see. I often hear stories from teenage girls about the sexy photo that was sent without a single thought of where it might end up.  And sure enough, the photo was inevitably forwarded out to friends, strangers, predators, parents and teachers for people to pass judgment on and potentially use against them.
Be aware. Criminals, online predators and backstabbers can use your private pictures against you.  If you think your sext is only going to be seen by your intended recipient, think again. Once it's out there, it's out there for everyone to see.  It's no fun to be embarrassed or belittled, threatened, or coerced online – especially by those you know, let alone those you don't.
It's a fact that social media has become the focal point of your life, and it's time that we adults face it.  Sextortion is not only the newest Internet "ugly," but it's a trend that requires all teens to take seriously, and become aware that Sextortionist experts are out they looking for teens and young children to prey on.
Remember, promises get broken, boyfriends become ex's, and friends become frenemies. Unfortunately it's the reality that you live in today, so be careful with who you trust, and don't record or send anything that can come back to bite you.